The Red carpet of the Golden Globes airs on E! The program starts with Giuliana Rancic wearing a dark dress that made her look awkward. Joan Rivers should bash her on her show, Fashion Police. While the Golden Globe winner, Claire Danes chose a red matte dress by Versace. It was a safe choice because I think Danes wants a comfortable gown this time around because she recently had a baby. Another nominee, Amy Adams repeated a nude color gown by Marchesa and I hated this look. Her dress is pale and her skin is pale… she needs to wear color or at least get a spray tan!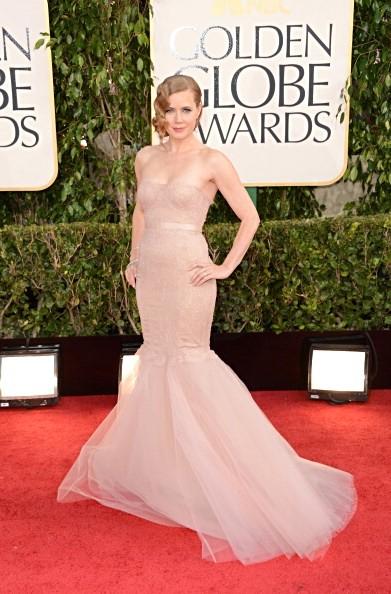 The Golden Globe hosts: Tina Fey and Amy Poehler chatted for a while with Ryan Seacrest about the exciting night for both of them as hosts. Poehler made a choice that I've seen many times with a tux-type outfit; however, I will let it slide because she will host the Golden Globes. The hosts change their gowns often and Amy may walk comfortably through the busy red carpet because she is wearing pants. Meanwhile, Tina Fey nailed it with her black and white dress with roses by L'Wren Scott. In my opinion, it is the perfect 10. Fey's gown is unconventional and glamorous.
Julliane Hough is wearing a Monique Lhuillier dress and it is a mess. Her hair is also messy that made her look worse.  One of the presenters, Lucy Liu looks stunning in a Carolina Herrera gown that has bold floral prints in a light blue background. Liu's gown is beautiful and it is a playful dress. Then, the Zero Dark Thirty winner, Jessica Chastain wears a Calvin Klein light blue dress that made her voluptuous body look like a bag. The dress has an ill-fitting shape. Another Golden Globe winner, Jennifer Lawrence enters the red carpet with a beautiful Dior gown. The shimmer on the red satin dress was perfect for the young actress. Lawrence was another perfect 10. Later on, the Australian actress, Nicole Kidman confessed on E! that her husband, Keith Urban picked her dress for the award ceremony. I'm sorry Kidman, but Keith has bad taste next time hire Rachel Zoe to pick the ideal gown. As the red carpet coverage continues, the Grammy winner and Golden Globe winner, Adele arrives in her famous black dress that makes me yawn. I will not apologize for her repetitive fashion and Adele is the queen of boring dresses. Adele has talent and she is beautiful. She needs to wear better dresses with different colors.
The pregnant actress, Kristen Bell glowed in a lilac dress with a massive rhinestone neckline. I loved how the mommy-to-be arrived to the red carpet. The ABC star, Hayden Panettiere appears in rosy lace dress by Oscar De la Renta which is a look. In addition, the Modern Family star, Sofia Vergara wore a Michael Cinco couture gown made of black sequence. Vergara looks amazing in her dress and it is hard to ignore her beauty. I am upset with Jennifer Lopez because she wore a tacky nude dress by Zuhair Murad that has white roses covering her private parts of her body. Jennifer needs to give up on these nude outfits as well. Then, the lovely Django Unchained star, Kerry Washington looks chic in a Miu Miu nude dress that complemented her skin color. For me, Kerry looks like a winner. Lastly, the Golden Globe winner, Anne Hathaway wore a white Chanel beaded dress. In my opinion, her top looked a bit loose, but overall she looked extraordinary.
So kitties, here is my review for the 2013 Golden Globes red carpet. I will also cover the Oscars and the Grammy's, until then!
All Rights Reserved. DISCLAIMER: alsy365 blog claims no credit for any images or videos featured on this site unless otherwise noted. All visual content is copyrighted to its respective owners. alsy365 blog Information on this site may contain errors or inaccuracies. If you own rights to any of the content and wish to have it removed please let me know.