Style News - StyleWatch - People.com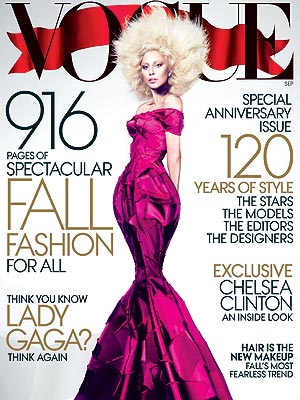 Courtesy VOGUE
After threatening the magazine with bagels via Twitter , Lady Gaga finally got her hands on her second Vogue cover.
"Who else sees me channeling @RuPaul on the COVER of VOGUE. If only I was as fierce as you b*tch. I did try to come for you with that weave," the superstar Tweeted after sharing the striking image.
Gaga is statuesque, almost Gumby-like, donning a pink Marc Jacobs fishtail gown paired with poufed-out hair — a major departure from her first Vogue cover.
Inside the September issue, Gaga discusses her upcoming fragrance and the recent reuse of her infamous meat dress. "We were talking about putting the show together," she says of her latest tour, "And I said, OK, what if I was someone's grandma and I was going to a concert tonight. How would I know that it was a Gaga show? And we all…
View original post 48 more words