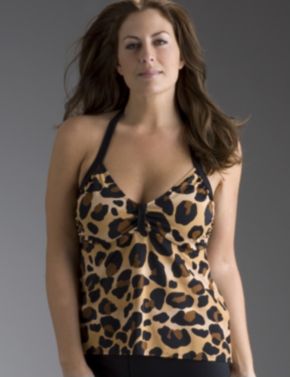 Across the states the weather is H-O-T and I am not referring to Cristiano Ronaldo (the world knows he's hot LOL). Oh, well, moving into the main topic it's almost 80 to 90 degrees everyday and of course where's the stress reliever? the beach and what looks great in the beach? Swimwear!!!!   
  The swimsuit Halter top  to the left is from Lane Bryant Collection for the Summer for the fab price of $37.50. It's a great find and will make any girl exotic.                                                                                 
This swimsuit is from Merona's latest collection at TARGET. The item's piece name is Women's Plus Size Merona Red one Piece Swimsuit for $44.99
This has a great shade of red which is my favorite color because it goes  with all skin colors and it enhances natural glow and youth. As well as, the cut designed for the swimsuit really shows the best features of most bodies types.
As for the sporty girl to the right is in blue the Nike separates for $40.00 available at Kohl's
As well to the right we have the Nike Floral separates Duo each piece is $40.00 also available at Kohl's
1
                                                                                                                                                                                         2
      Not forgetting the daring girls that wear the awesome and very sexy bikini's!
Piece #1 is from Micheal Kors Summer Collection at Saks for $226.00   (Picture to the left)       
Piece #2 is from Milly at Saks. Original price $100.00, but now is 1/2 its price, $50.00 (Picture to the right)
For more trends for this summer and looks in various ways such as playful, cute and sexy, then watch Ed Hardy's latest Swimwear 2010 Collection from Mercedes Benz.
Sit Back and Enjoy your healthy with sunscreen tan!
Your friend,
The Fashionista1